---
"A Celebration Of Clive's Life"
October 8-9-10, 2021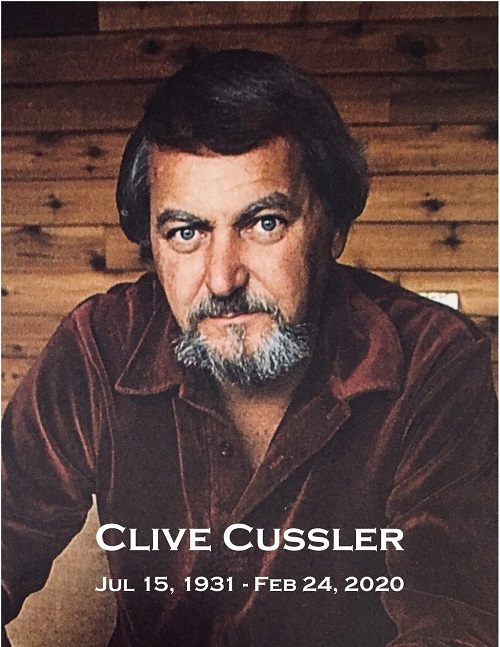 Image by Walter Winterburn
This is a live in-person event. We will not be broadcasting over the Internet.
The Clive Cussler Collector's Society Convention is open to the public. You do not have to be a member to attend.
Like us on Facebook
---
LOCATION
The CCCS 2021 Convention will be held in Denver Colorado on Columbus Day Weekend, October 8-9-10.
Delta by Marriott
Denver Northglenn
10 East 120th Avenue
Northglenn, Colorado 80233
303-452-4100
Hotel was renovated in 2020 and changed the name from "Ramada" to Delta by Marriott.
For Lodging Reservations, call the hotel directly and ask for the front desk (303-452-4100). Just ask for the Clive Cussler Group. Our group rate per night is $109.00 + tax.
MAKE YOUR LODGING RESERVATIONS EARLY. Our room block for lodging has a cut-off date of 9/25/2021. At that time our room block will be released for general sale.
Lodging is not included in the Convention ticket price.
---
TICKETS
Tickets to the event will go on sale July 1st.
Tickets to the event will cost $165.00 per person.
You can pay for your convention ticket by using the PayPal link below, or send a personal check 30 days before the event to:
Clive Cussler Collectors Society
PO Box 5729
Pahrump, Nevada 89041
We will accept personal checks for tickets at our registration check-in desk with prior notice.
Please contact the EVENT MANAGER.
---
EVENTS
Your 2021 Denver CCCS Convention ticket price includes, but is not limited to: Friday Night Meet & Greet with Special Guests, Attendance at all Guest Speaker and Book Signing events, Shuttle bus to and from the Cussler Museum, Self Guided Tour of the Cussler Museum with food and drinks.
Thursday 10/7/2021
Thursday Evening Kick-Off Dinner: (with early attendees). This event will take place at or within walking distance of the Delta by Marriott at 7:00 PM. This event is not part of your Convention ticket price, each person will be paying for their own meal/drinks. The exact location will be announced at a later date.
Friday 10/8/2021
Registration/Display/Sales Room: 8:00 AM to 11:00 PM.
Meet & Greet: 7:00 PM to 10:00 PM.
Mingle with your fellow Cussler Fans, Dirk, the coauthors and NUMA squad.
Cash Bar
Hors d'oeuvres
Saturday 10/9/2021
Registration/Display/Sales Room: 8:00 AM to 4:00 PM.
Guest Speakers: 8:00 AM to 12:00 AM. This event will run into the early afternoon. The winner of the AWC will be announced by Peter Greene. The book signing event will also take place during this time block.
John Vinson Master of Ceremony
Walter Winterburn First cup of coffee, The quick opener for the 2021 CCCS Convention.
Paul Kemprecos
Jack DuBrul
Graham Brown
Grant Blackwood
Craig Dirgo
Jeff Edwards
Roland Dahlquist
Scott Brick
Stuart Leuthner
Ralph Wilbanks
Dave Conlin
Peter Greene Will introduce the 3 finalists of the Adventure Writers Competition.
Dirk Cussler
Teri Cussler
Dayna Cussler
Shuttle Bus to Cussler Car Museum: 4:00 PM
Cussler Museum Tour: 5:00 PM. "A CELEBRATION OF CLIVE'S LIFE" presented by Dayna Cussler. Hosted by the Cussler Family (Dirk, Teri and Dayna).
Food
Drinks
Shuttle Bus Return to Hotel: 9:00 PM
Sunday 10/10.2021:
Registration/Display/Sales Room: 8:00 AM to 12:00 PM.
Dinner with remaining attendees: (Time and location TBA)

This event is still in the planning stages and is subject to change.
---
During the convention, Covid-19 safety regulations in place at the hotel, Cussler Museum and shuttle bus will be followed.
---
Copyright © 2021 Clive Cussler Collectors Society.
This event cannot be recorded, copied or republished in any way without written permission from the Clive Cussler Collectors Society and guest speakers.
These scheduled events are not limited to this initial listing and are subject to change.
Have a question or need more information? Contact: Event Manager.
All Rights Reserved © Clive Cussler Collector's Society
---
Past Convention DVD Videos
Our Convention DVD Videos are on sale now, order yours today!
---
2021 Convention "Drawing Giveaways"
---

The 2021 Adventure Writer's Competition

For information about the 2021 Adventure Writer's competition, click the link below:
The Adventure Writer's Competition
---
FREQUENTLY ASKED QUESTIONS
I didn't purchase my convention tickets from the "Clive Cussler Collector's Society" official web site, will my tickets still be good?
Only tickets purchased from the CCCS web site will be honored. If in doubt, contact the CCCS at cusslersociety@xpressdata.net
Can I mail some books to the hotel so I don't have to pack them through the airport with me?
You certainly can, but be sure to check with the hotel first. Some hotels charge a daily storage and handling fee so make sure you understand their policy before you mail anything.
This is our first Cussler Society convention and we were wondering if we needed to wear formal attire at the banquet dinner.
The dress is casual at all our events, wear whatever makes you feel comfortable (within reason)...
I won't be able to attend this years convention. Can I still purchase tickets for the raffle?
Our raffle items are an incentive to attract individuals to our conventions and are only available to paid convention attendees.
I'm a guest at the convention, am I eligible for the raffle drawings?
Only paid attendees are eligible for the raffle drawings. Guests with complimentary admission are not eligible for the drawings.
I'm not a member of the Clive Cussler Collector's Society, can I still buy tickets and attend?
Our Convention is open to the public, anyone can attend. The CCCS reserves the right to refuse admission to anyone for any reason.
I bought tickets to the convention, but they never came in the mail. When can I expect them to arrive?
We do not send out paper tickets. When you pay for your convention ticket, your name and contact information is added to the attendee list. When you arrive at the convention, check in at our registration booth and sign in. You'll receive an information packet with event details and an ID Badge. You must wear your ID Badge to attend the events.
What happens if I paid for my convention tickets in advance and it turns out that I will not be able to attend, will I get my money back?
You will be refunded 100% of your ticket cost, less any PayPal fees or expenses we incurred in the transaction, up to 30 days before the event. After the 30 day deadline, any cancellation will be handled on a case by case basis and up to the discretion of the CCCS event organizers.
I was wondering if the convention events could be separated so I would only be paying for the events I wished to attend?
Sorry, our convention tickets are only sold as a package deal. We do our best to put on an event that everyone will enjoy and get the best value for their ticket price.
What type of presentations we can expect?
We have speakers who may or may not provide a slide show/Power Point presentation–that will depend on them. We'll have a meeting room set up and the subject matter and presentation will be at the discretion of the speaker. However, in this setting John Vinson will address the group to convey information, introductions, acknowledge individuals and, hopefully, have several types of drawings, in which Cussler and Cussler-related collectibles will be given away.

The CCCS reserves the right to refuse admission, at any time, to anyone, for any reason.

CLICK HERE if you need more information on our convention.
All Rights Reserved © Clive Cussler Collector's Society