A Bibliography of Clive Cussler
This 376-page trade paperback is published by The Clive Cussler Collector's Society and contains an introduction by Jack Du Brul.
From the back cover: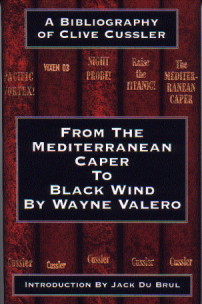 In his bibliography, Wayne Valero has painstakingly listed nearly every English language edition of Clive's works as the title says from the Mediterranean Caper to Black Wind, including his non-fiction Sea Hunters and Sea Hunters II and the NUMA Files and Oregon Files spin-offs. This is a great guide to collectors who want to ensure their books are the coveted first editions or anyone interested in the impressive scope produced by the "grandmaster of adventure." - Jack Du Brul
From The Mediterranean Caper To Black Wind is not a second edition of Wayne's first book, "The Collector's Guide To Clive Cussler". This is an in-depth bibliography listing many obscure paperback and hardcover editions, with descriptions and ISBN numbers. Wayne also shares his thoughts and insights that readers will find interesting.
This bibliography is the result of an idea Wayne had several years ago. He wanted to put together a checklist of Clive's novels, so members could have a running record of their collection to bring with them when looking in bookstores and while traveling. This would help avoid buying duplicates and aid in upgrading existing books in their collection. Knowing what you're buying is the important first step in compiling a collection. At each "book listing" is a box for entering information about your Books Condition, Dustjacket/Cover, Signature Info and Comments. At the end of each section is a blank page for "Notes". There's even a section on "Using The Checklist".
From The Mediterranean Caper To Black Wind isn't just a list of Clive's books. Wayne took it to the next level. Even Cussler fans that aren't serious collectors will find it an enjoyable read.
The price is $28.00 and includes media mail shipping in the United States.
Or, send a money order for $28.00 to:
Clive Cussler Collector's Society
PO Box 5729
Pahrump, Nevada 89041
________________________________________________________________________
The Limited Hardcover Edition of, "From The Mediterranean Caper To Black Wind"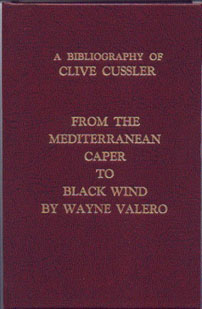 This Limited Edition consists of 100 hardcover copies of Wayne Valero's new bibliography of Clive Cussler. Each individually numbered copy is signed by Wayne Valero, Jack DuBrul, Paul Kemprecos and Clive Cussler. This very attractive hardcover, measuring 5.5" x 8.5", has burgundy boards with gold lettering on the front and spine with black and white headbands. The price is $100.00 each including priority S/H in the US. You'll be happy with the quality workmanship and great look. Get in early and get a low number!
LOW ON STOCK.
Please Email cusslersociety@xpressdata.net
To Verify Availability And Place Your Order.

For a $10.00 member discount,
Email cusslersociety@xpressdata.net